Rehab for Endometriosis – Interview with Rehab Psychologist Teresa Götz
In this informative interview, Rehab Psychologist Teresa Götz sheds light on the concept and application of rehabilitation for endometriosis. Discover how it works, the application process, and the optimal timing for seeking rehabilitation. Teresa Götz leads the Pain Management Group for endometriosis patients at the certified Endometriosis Rehab in Bad Waldsee.
These rehabilitation and spa clinics are independently certified by the Endometriosis Research Foundation (SEF) and Euroendocert GmbH.
Certified Endometriosis Rehab Centers include:
We extend our gratitude to Teresa for sharing her insights in this interview!
The best action is to consult your family doctor or gynecologist. They are knowledgeable about the process, can assist you with the application, and can provide a professional opinion that will accompany your rehab application. You will typically receive the application from the responsible funding unit, often the pension insurance. Your doctor will then help you submit the completed rehab application.
In the case of post-operative rehab, you can initiate the process while still in the hospital, together with your medical team and the hospital's social services. It is advisable to request this as early as possible. This type of rehab serves as a follow-up treatment and should commence within 2 weeks after discharge. It is worth noting that this option's chances of approval are generally highest.
How Exactly Does Rehab for Endometriosis Work?
Your rehabilitation program is designed to be as personalized as possible. Before your rehab begins, you will receive a questionnaire where you can outline your health concerns and preferences.
Upon arrival at the rehab facility, you will be assigned a room and have your initial consultation with the attending physician. During this meeting, you will discuss your primary concerns and identify which rehab services align best with your needs. For example, if you are experiencing psychological distress, you can schedule sessions with a psychologist. If you are interested in improving your nutrition, seminars are available at the clinic. You can also express your preferences for Tai Chi, water gymnastics, or yoga activities. You will assess your physical condition with your doctor to tailor the program accordingly.
What Is the Benefit of Specialized Endometriosis Rehab?
In general, rehabilitation offers several advantages. Many patients find stepping away from their daily routines or the constant hustle and bustle beneficial. During rehab, you can focus on yourself and your health, allowing you to recharge your batteries.
One of the significant advantages of certified endometriosis rehab is the specialized information it provides. You can delve deeper into understanding endometriosis through lectures and consultations on nutrition, relaxation techniques, and pain management. Detailed presentations on endometriosis offer trustworthy information about the condition.
Endometriosis rehab also provides an opportunity to connect with other women who share a similar journey. Many strong friendships have formed in these settings, offering mutual support.
The inclusion of psychological and social counseling is another valuable aspect. Discussing topics like job situations in career counseling or addressing desires related to family planning and relationship issues in individual psychological counseling can be highly relieving. You may gain new perspectives or receive helpful tips to plan changes in your life.
Consider rehab as a chance to experiment and try new things. Various sports, relaxation activities, and massages are often offered, allowing you to discover which ones benefit you the most. You can then incorporate these practices into your daily life while leaving behind those that aren't as effective.
While all forms of rehab contribute to your health, specialized rehabilitation programs are particularly advantageous because treatments can be tailored precisely to your specific needs.
When Is the Best Time to Do This?
Rehabilitation can be beneficial at different stages of one's health journey.
One opportune time is immediately following surgery, serving as a crucial part of your post-operative care. During rehab, you can experience relief from household responsibilities and gradually regain your strength and abilities.
Another favorable time is when you have been dealing with a prolonged illness. If you have been unwell for an extended period, rehabilitation can offer assistance and introduce strategies that you can continue at home. In some cases, health insurance providers may recommend rehab for individuals who have experienced an extended illness.
Rehabilitation can also be beneficial when there are doubts about your ability to continue your current job. In such instances, rehab professionals can explore options for potential career transitions, such as moving from physically demanding to office-based positions. Additionally, discussions about Long-Term Absence (LTAs), including accommodations like height-adjustable desks or potential limited European Union (EU) disability pension applications, can be considered if it is unlikely you will be able to work in the foreseeable future due to your health.
What Can You Do for Yourself at Home?
Many initiatives can be initiated from the comfort of your own home.
Begin by gathering information about endometriosis through books, reputable websites, lectures, or online courses. Most cities offer health-related courses, often sponsored or covered by health insurance providers. Additionally, numerous opportunities for relaxation can be explored through studies or online resources, such as yoga, meditation, Tai Chi, or simply taking leisurely walks.
Engaging in physical activities is always beneficial, as it promotes overall health and releases endorphins, which can help alleviate pain. Choosing activities that are well-suited to your capabilities and feasible for you is essential. Consider rehabilitation sports or prescribed physiotherapy as viable options.
For those with endometriosis, quitting smoking is highly recommended. This process can be supported and guided through courses or hypnotherapy.
Nutrition plays a significant role in managing endometriosis; some health insurance providers partially reimburse nutritional counseling.
If you are experiencing mental distress, social counseling (e.g., through organizations like Caritas) or psychological counseling can be valuable. While endometriosis is not a psychological condition, the stress and pain it causes may warrant psychotherapy as a supplementary form of support. An initial consultation with a psychologist can help determine if there is a good rapport and if psychotherapy could be beneficial.
Joining self-help groups can also provide support and new perspectives.
In all circumstances, it is crucial to prioritize self-care. It is okay not to feel well or to experience mood swings due to pain. Be attuned to your needs as much as possible.
On the other hand, seeking distraction from the condition is also essential. Exploring different facets of life can be uplifting.
While many strategies can be implemented at home, it is important to note that in a rehabilitation setting, everything is conveniently consolidated, allowing you to focus solely on yourself—this can be a significant advantage!
Thank you, Teresa, for this incredibly informative interview! We eagerly anticipate hearing more from you in the future.
We also encourage you to share your own rehab experiences here.
Your personal stories can provide valuable insights and answers to questions that other women with endometriosis may have, making a significant difference. So, whether you underwent rehab locally or elsewhere, regardless of your experience, we welcome your contributions! Rest assured, we will not publish anything without your consent, and anonymous testimonials are also an option. Your input can tremendously help women seeking the right rehab solution!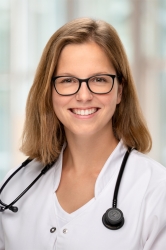 Latest posts by Dr. med. Nadine Rohloff
(see all)